Snapshot
Highlights
Overview
Exploration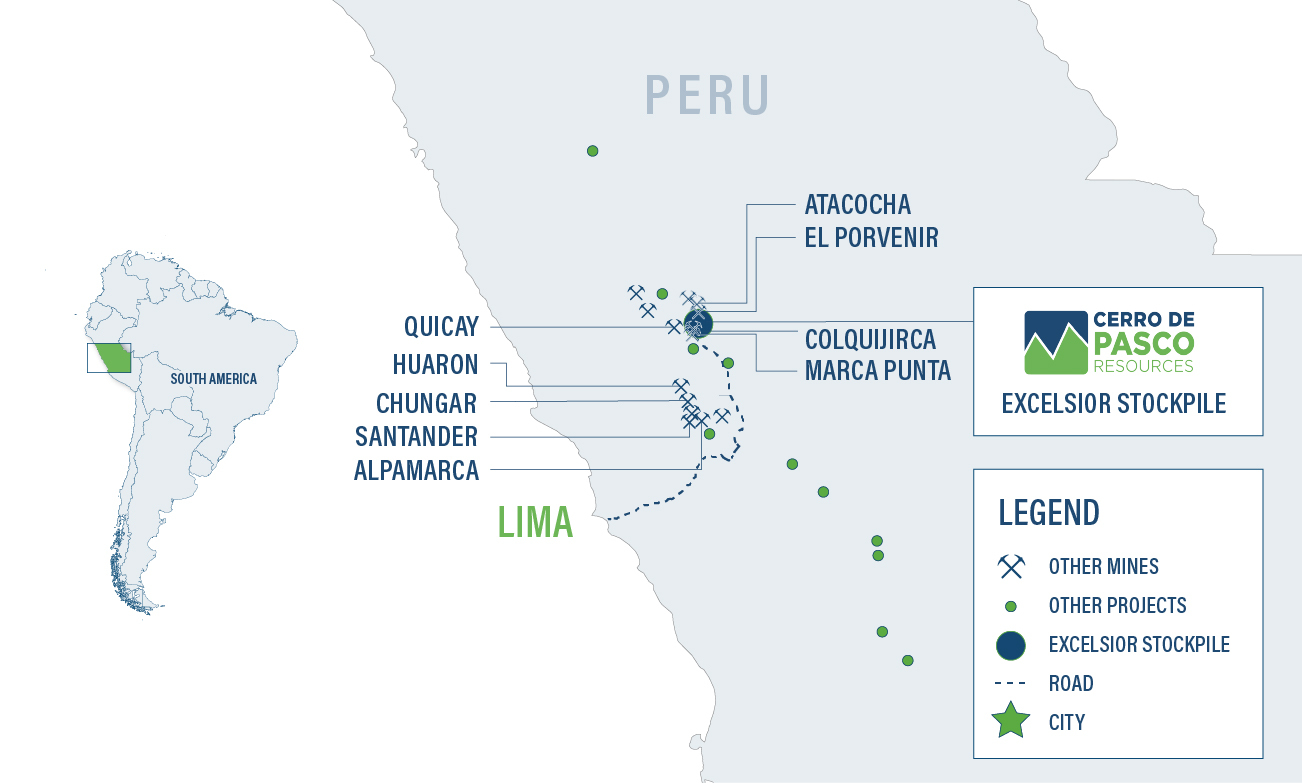 Excelsior Snapshot
Ownership - CDPR holds a 100% interest in the El Metalurgista mining concession (95.74 ha) incorporating mineral rights covering approximately 35 ha of the Excelsior Stockpile.
Location - Approximately 175 km NNE of the city of Lima in the Region of Pasco, Peru.
Infrastructure – Roads accessible, power grid, abundant water, adjacent to operational processing facility
Deposit Type – stockpiled low-grade Zn, Pb, Ag mineralization sourced from the Cerro de Pasco Mine which hosts complex epithermal polymetallic mineralized system of the type known as a Cordilleran base-metal deposit.
Status – Development Stage
End Product –Zn and Pb concentrates
Excelsior Highlights
The Excelsior Stockpile covers a surface area of 67.92 ha and contains approximately 70 Mt of broken rock. The stockpile was in use between approximately 1970 and 1996 to store what was then considered uneconomic/low grade mineralization from the Raul Rojas open pit. The surface area of the Excelsior Stockpile lying within the El Metalurgista Concession is approximately 35 ha and contains approximately 30 Mt of broken rock.
Inferred Mineral Resource of 30.10 Mt grading 44 g/t Ag, 0.6% Pb and 1.5% Zn, containing 42.9 Million ounces of silver, 437,000 tonnes of zinc and 184,000 tonnes of lead.
The Excelsior Mineral Resource has potential to increase significantly if CDPR can acquire government owned surface rights that surround the El Metalurgista concession.
Excelsior Overview
Large stockpile located to the south-west of the Raúl Rojas pit. Its dimensions are approximately 1.3 km north-south, 0.8 km east-west, and up to 90m depth. It was filled with mainly unprocessed low-grade carbonate-hosted Zn-Pb-Ag mineralized material excavated from the Cerro de Pasco Raúl Rojas pit and underground mine over many years since the 1970 to 1996.
Surface rights to the Excelsior Stockpile are owned by Activos Mineros S.A.C. (AMSAC) a company created in June 2006 and wholly owned by the Peruvian Government. CDPR has initiated certain procedures with the Peruvian Ministry of Energy and Mines with the intention of acquiring the surface rights from AMSAC or obtaining temporary permission to use them.
Excelsior Exploration
Recent exploration has included:
Drilling of 6 core boreholes (351 m) by Volcan in 2004
Excavating of 157 test pits (896 m) by Volcan on the Excelsior Stockpile in 2008. Each test pit was dug with a CAT 325/330 swing shovel to +/-6m depth.
Drilling 74 RC boreholes (4,368 m) by Volcan in 2009